Welcome to our new page featuring "what's happening" in the world of VGS for 2021.
We are so happy to announce two exciting new initiatives this year that promise to be inspirational, educational, and of course…always delicious!
Some events will be virtual and some live and in person.
We hope you will join us along the journey as we discover and un-mask
some of life's most beautiful gifts!
Our 2021 Initiatives:
VGS Person of the Year
&
VGS Celebrates America's Favorite Foods
VGS Person of the Year
VGS is much more than a winery; it's a community filled with incredible people doing truly remarkable things.
As such, we are thrilled to announce the launch of the VGS PERSON OF THE YEAR AWARD, an annual initiative created to support those who support us. Each year, VGS will be partnering with a different person & their organization to promote, inspire, motivate, and most importantly, give back.
With that said, we are thrilled to present the inaugural, 2021 VGS Person of the Year Award to:
Shawn Cheshire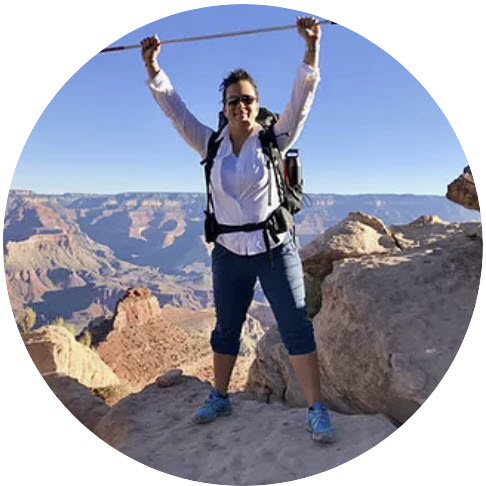 Shawn is one our VGS family members who accompanied Jean-Noel on our member trip to Bordeaux in 2019. She is also a US Army Veteran and former paramedic. Even more, she is 100% blind. On May 17th, Shawn is embarking on a 3800-mile cross-country biking Blind Odyssey from Oregon to Virginia Beach, something that no blind athlete has ever attempted before.
This is our dream we want to accomplish WITH YOU…
In the name of all our club members and best customers, VGS Chateau Potelle is making a $5000 donation to her non-for profit, Choosing to See: A Blind Odyssey. Additionally, to give you a front row seat to follow her exploits, we are organizing three exclusive and interactive FACEBOOK LIVE events:
Sunday, May 16th, the day prior to Shawn's expedition departure filmed live in Oregon
2. From the road, nearing her mid-point in Colorado (date TBD in early June)
3. Her "grand finale" arrival day in Virginia Beach (date TBD in early July)
During these live events Jean-Noel will interview Shawn and her teammates and you will be able to ask her all the questions you want.
Here is Shawn's Itinerary so that you can follow each pedal stroke of her journey. We encourage you to cheer her on by posting messages directly to Shawn's social media pages below:
Follow Shawn's Journey on Social Media:
Choosing to See Facebook: www.facebook.com/choosingtosee
Choosing to See Website: www.choosingtosee.org
Be sure to use the hashtags:
#vgspersonoftheyear
#vgshappens
#choosingtosee
And link posts to both Shawn's page and the VGS page:
@choosingtosee
@vgspotelle

Shawn and her team are also hopeful that they will be joined by other cyclists along the way should you want to join the adventure!
We hope you will join us as we congratulate Shawn Cheshire as the 2021 VGS Person of the Year and wish her well on her inspirational journey! Shawn, we raise a glass of VGS to you in your honor!
CONGRATULATIONS SHAWN!!!!!
VGS Celebrates America's Favorite Foods
A food & wine discovery tour across America


VGS is a family of like-minded people who live, love, laugh and share. Over the years we have been so blessed to have shared many, many memorable moments with you, our members…in your homes and around your dinner tables creating great memories together. We look forward to sharing the stories, personalities, and delicious foods from every corner of the USA with you.
This year, we will make four stops on our quest for America's favorite regional, comfort foods. Each visit will feature authentic experiences, with you-our customers, local farmers and fishermen, celebrity chefs and so much more. You don't want to miss this exciting series!
Spring 2021
The Bayou of Louisiana
A Discovery of Creole & Cajun Cuisine
Crawfish, Gumbo & Jambalaya
Facebook Live Event May 26th
To cook and drink along with us:

Purchase your VGS Wine 2 bottle Wine Kit

&

Purchase your Chef John Folse Jambalaya Kit
---
Summer 2021
Deep in the Heart of Texas
In search for the Perfect Steak
with Top Chef John Tesar of KNIFE Restaurant & 44Farms Texas Beef Ranch
Facebook Live Event
Date TBD
---
Fall 2021
The Eastern Shore of Maryland
Chesapeake Blue Crab Cakes
Facebook Live Event
Date TBD
---
Winter 2021
The Sunshine State "Cuban Style"
The Flavors and Heritage of Traditional Cuban Cuisine
Facebook Live Event
Date TBD