Join us for an experience that reflects the style of our wines … elegant yet restrained, with every detail tailored to you!
The core of the VGS experience lies in vibrant, inviting cottage in which our attitude resonates throughout - lighthearted, easygoing and (though sometimes irreverent) certainly never pretentious.
***Please note that in accordance with Napa County and California State regulations, masks are required while inside, regardless of vaccination status.***
Open daily 10-5 - 1200 Dowdell Lane St. Helena, CA 94574
[ Map It! ]
~ RESERVATIONS ARE REQUIRED ~
Signature Wine & Food Tasting
We welcome you to enjoy our Signature VGS Wine & Food Tasting Experience. Known as the premier Food & Wine Tasting Experience in the Napa Valley, we offer a seated Private Tasting of 6 of our wines, expertly paired with exquisite food bites from the famed La Toque Restaurant. Indoor and outdoor seating available, as well as our Yellow Door room for wine club members. Guests should allow 90 minutes for this experience. Maximum of 6 guests per party. Nobody under 21 yrs of age allowed at this time.
$95/person
Loved, Loved, Loved VGS-The Best in the Valley! I cannot say enough good about VGS. Wines and a food sampling were outstanding. I could go on and on with lots of incredible adjectives but all I can say is GO NOW. You will not be disappointed.
— Tim M, Birmingham, AL
VGS et Fromage - Wine & Cheese Tasting Experience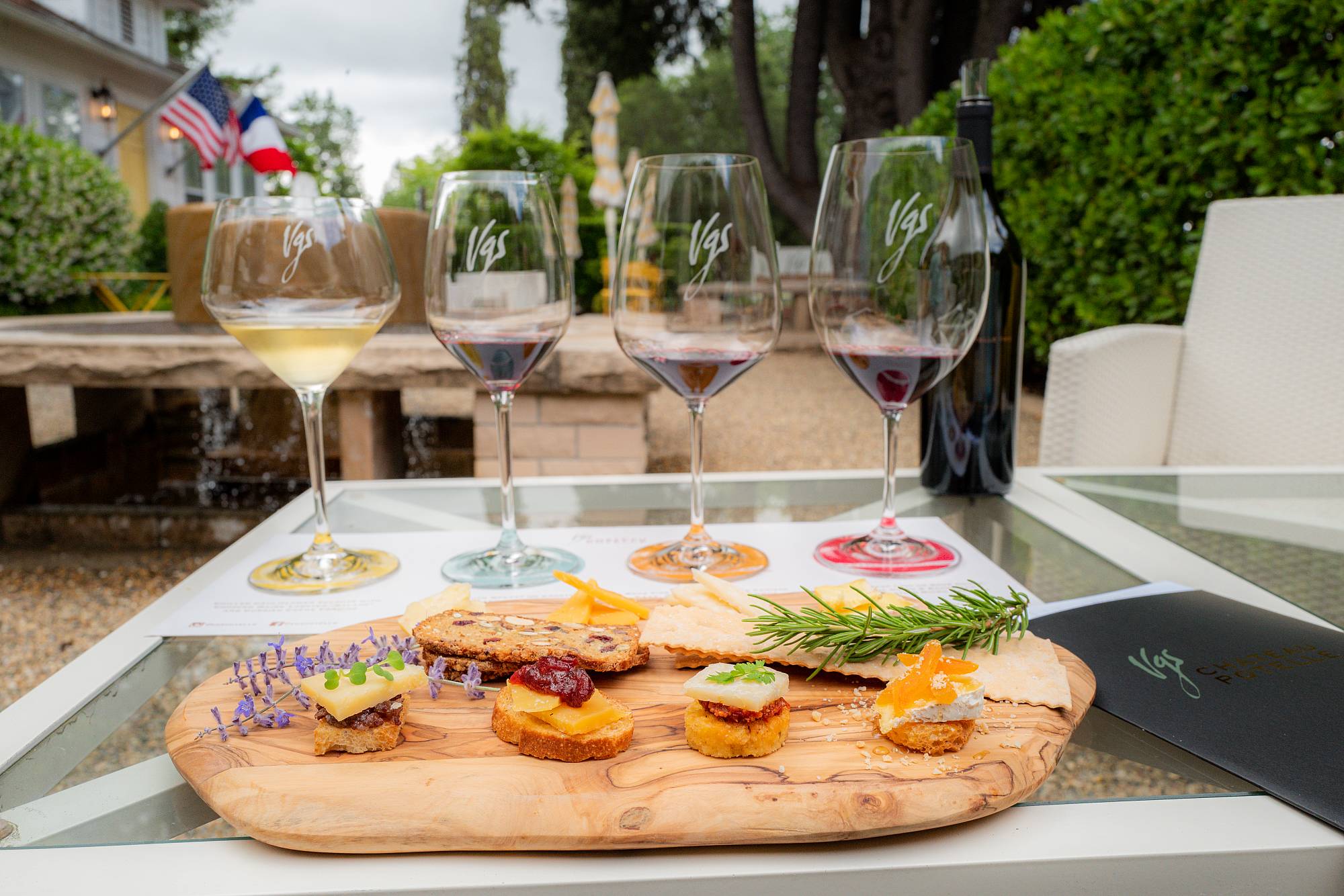 Our exciting new Wine & Cheese Pairing
Enjoy six of our signature VGS wines, each thoughtfully paired with artisan cheeses, seasonal fruits, nuts and crackers.
$95 per person
Luxe Wine Tasting
Allow your VGS host to guide you through a tasting of 6 VGS wines, only sold directly through the winery. Each tasting is hosted privately, either inside our Tasting House or outdoors(weather permitting) in our French-inspired garden. Each wine is served in a specifically chosen Riedel glass to accentuate the wines specific nuances and elegant aromas. Guests should allow 60-75 minutes for this experience. Maximum of 6 guests per party. Nobody under 21 yrs of age allowed at this time.
$75/person
Epicurean Garden Lunch
We invite you to the VGS Tasting House and Garden for our sublime Epicurean Garden Lunch Experience. Enjoy a gourmet 5 course lunch prepared by Chef Ken Frank of the famed La Toque Restaurant outside in our tranquil garden(seasonal) at our St. Helena Tasting House. This is an experience that you will not want to miss!! Guests should allow 2 hours for this experience. Due to our space, this experience is limited to 8 guests. For parties larger than 8, please inquire within.
Available by Advanced Reservations at $250 per person (Members receive their discount)
A 20% gratuity will be added to all lunch reservations
*Lunches in the garden are weather permitting, and will be held indoors otherwise.
Inquire within to make your reservation
by emailing Luis at Luis@chateaupotelle.com
Hard to put into words! This was by far and away our best and most unique Napa experience. Lunch is catered from La Toque--great food. Each wine was amazing - the best we tasted in all of Napa. We will never forget it. You should book this experience now!
— Joel S., Melville, NY
Bordeaux Comparative Tasting
Bordeaux meets Napa Valley A curated tasting, unlike any other …for the true connoisseur's! A private conversation and exceptional tasting of curated Bordeaux wines from Jean-Noel Fourmeaux's personal cellar presented tête-à-tête with the wines of VGS Chateau Potelle and thoughtfully prepared food bites.
Allow your private VGS host to guide your guests through a one-of-a-kind comparative tasting unlike any other in the Napa Valley in the private confines of the VGS Chateau Potelle Tasting House & Garden's
exclusive Yellow Door room.
VGS Sauvignon Blanc & Château Carbonnieux
VGS Cabernet Franc & Château Beau-Sejour-Becot
VGS 50/50 Cuveè & Chateau Lèoville Poyferrè
VGS Cabernet Sauvignon & Château Pontet-Canet
FOURMEAUX Red Wine & Château Margaux Pavillon Rouge
ADVANCED RESERVATIONS REQUIRED
*Bordeaux wines subject to change based upon availability
Cost $300 per person
You may reserve this unique tasting by contacting Luis@chateaupotelle.com
What an eye-opening tasting-simply one of a kind! These ten wines were all spectacular and so different. What a treat to taste these iconic wines from Bordeaux and Napa Valley side by side.
— Charles A., Boca Raton, FL