"Civilized but not completely domesticated"
Our vision at Chateau Potelle is to produce wines of style and character that are representative of their birth place. Like for each of us, our "roots" provide us with a unique culture, a set of morals and traditions...Our job as winemaker is to respect, exploit and enhance the unique qualities of our "roots" to craft wines that have a sense of place and exhibit their distinctive personality.
Winemaking, like parenting, is an art always reinvented. Every year it's different, just as every child is different. There are guidelines, of course, but no defined set of rules. You adapt to accompany each as they develop and grow; control does not really work.
If nature has given our grapes unique personality, why should we attempt to alter their course with excessive manipulation, or the use of technical specifications -- jamming them into the mold of "standardized" wines? Have you ever tried to "standardize" your children? They run away!!!
VGS' moto is "Perfection Without Pretension." Wine is like salt and pepper, it's another spice to food. Some may say wine is art, and we agree, but one that is meant to be swallowed – not stared at. Yes, wine is unique and special, but that should not put it on a pedestal. Wine is not an ego thing...it is a pleasure to the senses. YOUR senses, YOUR taste. Not others'. Yes, it is OK to have your own taste – that is what wine, and parenting, and life is all about!
Over the last 35 years, Chateau Potelle has built a solid reputation for its commitment to quality. Selling exclusively and directly to consumers, we are privileged to have the trust of an outstandingly loyal clientele. We commit that we will stay focused and continue to maintain the high standards that our clients have come to expect. And we promise to keep our same irreverent and non-pretentious attitude toward wine. But just in case you are having trouble deciding what your taste is...VGS keeps it simple: good things speak for themselves!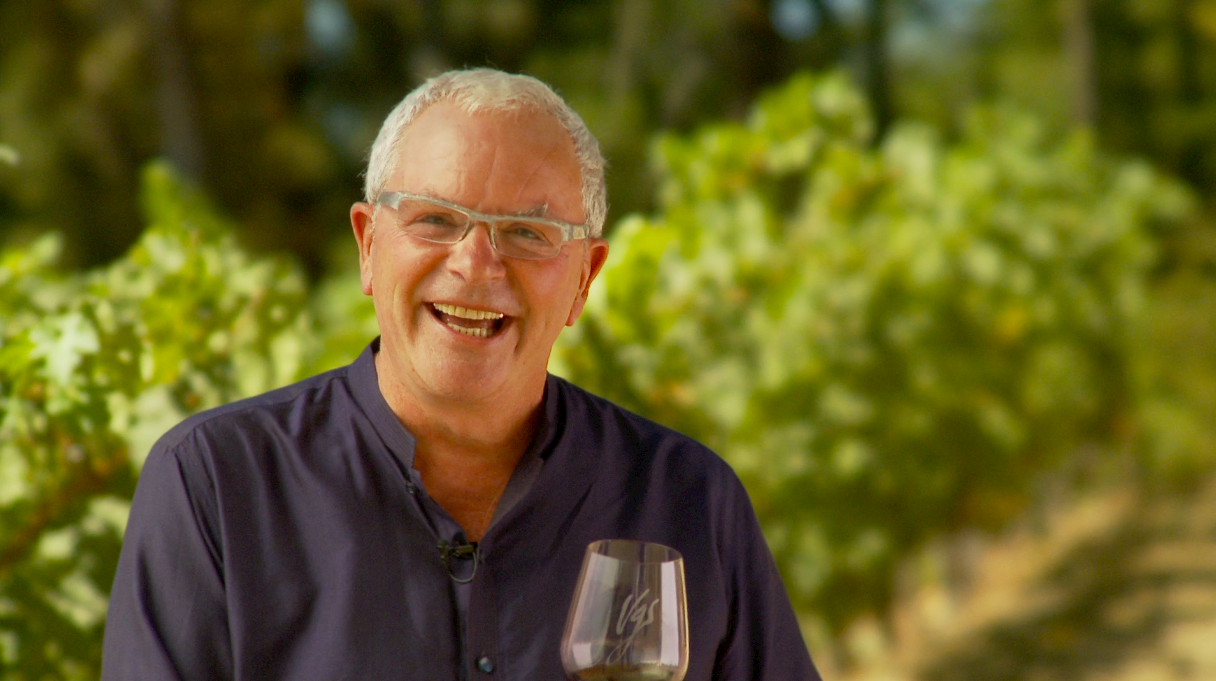 Jean-Noel Fourmeaux
Owner & Founder
Sent to the Napa Valley by the French government in 1980 to "spy" for 6 months, this son of Bordeaux sent a telegram home: "Looks good, I stay." Jean-Noel Fourmeaux was seduced by the exuberance and generosity of the Napa Valley fruit. He loves his home country of France, however there were too many traditions and strict rules. He was inspired by the freedom given to California winemakers that allowed for great creativity and expression. Additionally, in 1980 a culinary revolution led by the young American chefs where ingredients were respected and enhanced convinced him the wines style were going to change over time.
Jean-Noel is a 35 years veteran of the wine industry in Napa Valley, yet his winery, VGS Chateau Potelle, is known only by those who search for wines that have dimension, subtlety and definitive character. Their assertiveness is all in the layers of nuances, not in the over-ripeness of fruit. To make "main stream" wines has never been his calling.
He is a firm believer that everyone has a taste and that once they know it, their taste will never let them down. Jean-Noel philosophizes that the problem with wine is that peer pressure, social status or preconceived ideas forbid some people to trust their individual and very personal taste. VGS, in turn, is an attitude where each taste is respected.
Jean-Noel's unconventional but very serene and comfortable approach to life and wine is guided by his passion for making wines true to his standards and of his loyal customers.
Team VGS

Matthew Regan
Managing Director
‹
×
Matthew Regan
Managing Director
With eighteen years experience at Chateau Potelle, Matthew has become the right hand to Jean-Noels' left. Born and Raised in New England, educated at the CIA in Hyde Park, New York, seasoned at Blackberry Farm in Tennessee and maturing (at least trying) in the Napa Valley with his amazing wife Lindsay and twin daughters, Aubrey James & Madison Anne Marie. When not working at or drinking VGS, Matthew can be found in the hot tub or sleeping ☺!
›

Anthony Bartolomucci
"GOD of Chateau Potelle and Sauvignon Blanc"
‹
×
Anthony Bartolomucci
"GOD of Chateau Potelle and Sauvignon Blanc"
With seventeen years experience and dedication serving our guests, Tony is THE face of VGS hospitality! In his spare time, when he's not drinking VGS Sauvignon Blanc Tony can be found walking Lola at the dog park, skiing in Lake Tahoe (aka "going to church") or watching his favorite Real Housewives' on Bravo!
›

Megan Raphael
Director of Membership
‹
×
Megan Raphael
Director of Membership
Megan is the newest member to join the VGS team as our membership director and sales maven. Originally from Kentucky, hospitality is in her blood which makes her a natural fit to oversee our customer service. Prior to venturing to California, Megan spent a decade in NYC where she truly cultivated her passion for food and wine alongside some of the world's most renowned chefs and sommeliers. When she's not charming VGS members with her southern hospitality or spoiling her coworkers with homemade baked goods, she can be found cheering on The U (her alma mater), as well as her 3 racehorses. Oh, and did we mention she's a Kentucky Colonel?! :)
›

Kale Anderson
Consulting Winemaker
‹
×
Kale Anderson
Consulting Winemaker
Is he old enough to drink? That's the question going through most people's minds when they meet "baby faced" Kale. Don't be surprised when you learn he's worked 17 harvests and is one of the youngest winemakers to be awarded 100 points by Robert Parker. When he's not living his dream, you'll find him crushing something other than grapes on the tennis court or eating his favorite super food…kale!
›

‹
×
Eric Stauffer
Winemaker
Eric grew up surrounded by wine and food while living and working with his East coast, winery owning, food obsessed family. Wanting to be the first in the family to learn the science of wine, he moved to CA to get his winemaking degree at UC Davis, and never left. To this day he is still finding new wines to drink, new foods to taste and cook, and new ways to make better wines.
›

Luis Pettinato
Tasting Room Manager
‹
×
Luis Pettinato
Tasting Room Manager
Born and raised in Buenos Aires, Argentina and educated at the Le Cordon Bleu he found his way to Napa Valley via Los Angeles. With 16 years of experience in Napa Valley, working at Meadowood Resort and cruising by a couple of different wineries he landed at VGS in 2020-not an easy year but he survived! When Luis is not at the Tasting House & Garden you can find him riding his motorcycle or telling bad jokes with a funny accent:)
›

Kathi Cook
VGS Ambassador
‹
×
Kathi Cook
VGS Ambassador
Kathi is a Napa Valley Native. She spent four wonderful years in Colorado, but the California coast called her back home. Her passion has always been people, in her words 'I love people and hearing their stories.' When you meet Kathi, you will be greeted with her genuine and warm hospitality. She has a decade of experience working for small family vineyards, and a past life as a professional photographer. Away from the winery, Kathi spends as much time as she can traveling up the coast with her husband (the gourmet cook in the family) entertaining family and friends, and hanging out with her 'hairball' black German Shepard, Sophie.
›

Paige Kinyon
Membership Coordinator
‹
×
Paige Kinyon
Membership Coordinator
A native to Virginia, Paige received a degree in Hospitality & Tourism Management from the University of South Carolina, where she found her passion in taking full advantage of every wine tasting course offered. After graduating, she returned to Virginia to continue her diligent studies in wine, and once assisted a Master Sommelier in wrangling a flock of rogue chickens between hosting tastings. She decided to take her talents to the big league and moved to the Napa Valley with her husband in 2017, she joined the team at VGS in 2023.
›

Daniel Cocilova
VGS Ambassador
‹
×
Daniel Cocilova
VGS Ambassador
Daniel is the motor that keeps the VGS engine stay on track! He is our go-to guy that makes the magic happen behind the scenes. His passion for perfection and cleanliness shine through in his culinary creations and impeccable workplace organization. His hard work and dedication make all out lives a lot easier!
›